Presidential Candidate Office Space
9th September 2015
By: Bryan Moore
It's still over 14 months before the election, and we already have 19 candidates setting their sights on the White House. As the hopefuls have settled into campaign life, many have signed leases for their Headquarters.
Jeb Bush
Flagler Corporate Center, Miami FL
Who is he? The former two term Governor of Florida whose brother and father were both Presidents, will likely be the face of establishment Republicans in 2016. Jeb met his wife, Columba, while building a school and teaching English in her hometown of León, Mexico when he was 17.
How's the fundraising going? Including his Super-PAC, Jeb is blowing away all of his competitors on both sides of the aisle. He has over $114 million in support already.
Where is he settling in? Like his brother and father, Jeb has moved into a "white house" of his own...except this one is in Miami.
Ben Carson
1800 Diagonal Rd, Alexandria, VA
Who is he? A retired pediatric neurosurgeon from Johns Hopkins Hospital who gained popularity among conservatives for his straight-talk style and denouncement of Obamacare. While George W. Bush was President, he was awarded the Presidential Medal of Freedom in 2008. Grassroots Republicans love his remarkable life story: a voyage from poverty in Detroit to immense fame and popularity, but he has never run for any office before.
How's the fundraising going? He's raised $10.5 million on his own, with tens of millions pouring into super-PACs like Run Ben Run and National Draft Ben Carson for President committees prior to his entry into the race in May.
Where is he settling in? Ben has grabbed an office just outside the capitol city. Maybe his team will take advantage of the rooftop terrace when Carson takes the stage during the first debate.
Chris Christie
164 Speedwell Rd, Morristown, NJ
Who is he? The contentious and combative Governor of New Jersey was once immensely popular in his home state, but the establishment still love him, especially those who don't like Bush.
How's the fundraising going? His super-PAC Leadership Matters for America has reportedly made big inroads with large donors getting him to around $11 million, but his campaign hasn't disclosed any data yet.
Where is he settling in? Going back to his roots, Christie has settled on an office just twenty minutes from his hometown. The quiet location will be a nice hideaway from the press, but has easy access to two major highways.
Hillary Clinton
1 Pierrepont Plaza, Brooklyn, NY
Who is she? The all-but-anointed leader among the Democrats, Hillary Clinton has decades of experience at the national level. Wife of former President Bill Clinton, she's held office in the U.S. Senate and served as Secretary of State for President Obama.
How's the fundraising going? All in total, Mrs. Clinton sits with almost $72 million in her back pocket, most of which she's raised on her own, and leads fund-raising by a wide margin among the Democrats.
Where is she settling in? Clinton has placed her stake just off the East River in Brooklyn. Clinton's camp certainly recognized the trendy spot only ten minutes by subway to Wall Street, mirroring her desire to appeal to younger voters while respecting tradition.
Donald Trump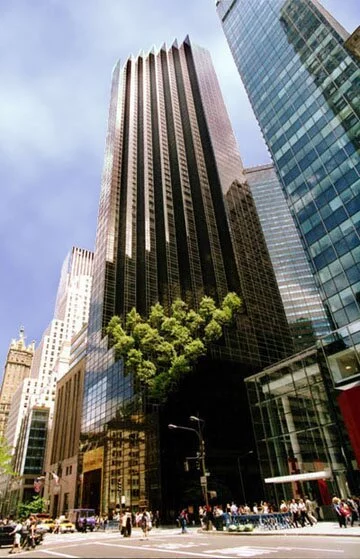 Trump Tower, New York, NY
Who is he? Best known as a TV personality, Donald Trump is probably the most polarizing person seeking election today. While he currently leads the polls, it seems that almost everyone has spoken out against him. He made a mountain of wealth working in his father's real estate company long before he ever appeared on television, and has since diversified into investments around the globe.
How's the fundraising going? He has basically financed his campaign himself, putting $1.8 million of his own money in as a loan, but who really knows...his super-PAC has yet to report their data.
Where is he settling in? Without a doubt, Trump's campaign has taken up residency in the flashiest building of any of the candidates. He certainly isn't afraid of the spotlight, so the glass and gold towers that carry his name are right up his alley.
Ted Cruz
Weslayan Tower, Houston, TX
Who is he? Tea Partiers and right wingers love this gun-slinging Senator from Texas. Staunchly conservative and proud of it, Cruz was born to a Cuban father in Canada but is eligible to run for the Presidency.
How's the fundraising going? He's currently second in fundraising for the GOP, with $51 million raised.
Where is he settling in? Everything's bigger in Texas. Cruz's boasts one of the prettiest and largest locations for his headquarters.
Carly Fiorina
1020 North Fairfax St, Alexandria, VA
Who is she? The ex-CEO of Hewlett-Packard, she boasts an impressive business resume. After starting work for AT&T as a secretary, she rose as high as President of spin-off company Lucent. After a failed run at the U.S. Senate seat in 2010, Fiorina has opted to run next for The Chief Executive Office.
How's the fundraising going? All-in-all, Fiorina has raised a little over $5 million, one of the lower totals of the Republicans.
Where is she settling in? The multimillionaire Fiorina opted for a very modest home in Alexandria, probably as a result of her small bankroll, but I'm sure the campaign would tell you that it shows that Carly is a woman of the people, rather than an out-of-touch business executive.
Mike Huckabee
3600 Cantrell Rd, Little Rock, AR
Who is he? Former Arkansas Governor and two time Presidential hopeful, Huckabee has been around the block more than most. Southern conservatives are his wheelhouse.
How's the fundraising going? Huckabee has a very modest $8 million backing him.
Where is he settling in? Having run twice, Huckabee's biggest challenge is to prove his relevance. He hasn't exactly done so in picking a Headquarters, but he probably couldn't afford much more right now.
Martin O'Malley
Railway Express Building, Baltimore, MD
Who is he? Former Governor of Maryland and Mayor of Baltimore, O'Malley shares much of the same leftism of Bernie Sanders. He is probably a long way from grabbing the nomination, but perhaps really has his eyes on the Vice Presidency.
How's the fundraising going? O'Malley hasn't yet reported any super-PAC fundraising action on his behalf, so all we know about are the $2 million his campaign has raised on their own.
Where is he settling in? Martin is back in Baltimore, only about ten blocks north of his old stomping grounds at City Hall. Sitting in the up and coming Arts district, the O'Malley camp have a comfortable and familiar home emblazoned with historical charm.
Rand Paul
Tech Office in Austin Centre at the Capital Factory, Austin, TX
Who is he? Son of former Congressman Ron Paul and U.S. Senator from Kentucky in his own right, the Libertarian (and his father) have used the last few election seasons more as platform to spread their beliefs than as a true shot at the Oval Office. That's not to say he's not respected...he sits on four senatorial committees and is chairman of 2 subcommittees.
How's the fundraising going? Rand hasn't published any super-PAC data, but he has raised almost $7 million by himself.
Where is he settling in? While it is a little unclear where Paul's camp has set up shop in Louisville, he surprised many by opening up an office in Austin, Texas for his online team, having recruited many in the region to work on his behalf. They'll be working out of an incubator right in the center of a the city brimming with youth and culture.
Bernie Sanders
One Church Street, Burlington, VT
Who is he? A self-proclaimed socialist, the Vermonter has spent almost 25 years in Congress in both the House and the Senate. Leftys love him, and his biggest role until the nomination is likely to drag Hillary further to the left to steal some votes from him.
How's the fundraising going? Sanders is out on his own without a super-PAC, but still sits in second among Democrats with over $15 million.
Where is he settling in? Bernie has gone back to Burlington where it all started for him as Mayor in the early 1980's. Bernie is trusting in his grassroots style to take him a long way, and getting down to basics in his hometown appears to be his strategy when picking a HQ.
Marco Rubio
501 C Street NE, Washington DC 20002
Who is he? The Cuban-American Senator from Florida upset a sitting Democratic governor to win his current seat. He is young, brazen, and articulate. Combine this with his limited experience, comparisons have already been drawn to the young Senator Obama in 2008. Don't expect him to get into any heated exchanges with Governor Bush...the Floridians are practically best friends.
How's the fundraising going? Rubio is doing solidly, in part because he enjoys strong establishment support. He's sitting in third place among Republicans with almost $44 million.
Where is he settling in? Rubio opened up shop in the District, but also has a campaign office in Miami. He seems to be playing the same card as Rand Paul: go where the talent is. In fact, Paul has a DC office of his own just five doors down.
Sources: Campaign Finance Info Bush Clinton Trump Huckabee O'Malley Paul Sanders